Model/Starlet Deniece Cornejo appeared at the Camp Crame Monday afternoon May 5. Cornejo along with four others were charged with non-bailable serious illegal detention for the Vhong Navarro mauling. Cornejo was in hiding for several days since the arrest warrant was released
Prior to Cornejo's surrender, Cedric Lee and Simeon Raz, two other main players from Vhong's mauling were caught by operatives last April 26 in Dolores, Samar.
Read related story:
Cedric Lee and Simeon Raz arrested in Samar
According to Inquirer website, a text message was sent to reporters by Chief Superintendent Reuben Theodore Sindac, Philippine National Police Public Information chief, he said Cornejo is currently having a dialogue with Director General Alan Purisima, PNP chief.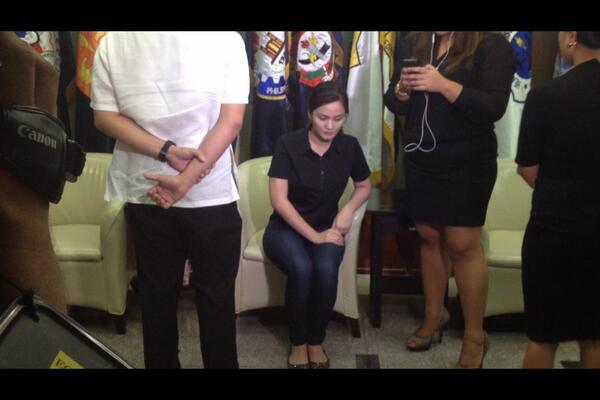 Deniece Cornejo in Camp Crame. Photo by ABS-CBN News
Meanwhile, Rod Cornejo, Deniece's lolo, had asked her apo to surrender herself to the authorities. In an interview made by GMA News yesterday, he admitted he has communication with Deniece.
"My dear Deniece, I'm appealing to you as your grand uncle please surrender. Don't wait, surrender.
"I know what you're going through. Gusto kong malaman mo na ako'ya naniniwala sa'yo.
"'Yung mga sinabi mo sa akin, 'yung mga nangyari sa'yo, tinatanggap ko na 'yon ang katotohanan, ngunit Deniece, hindi rin tama na nagtatago ka sa batas. Para sa ikabubuti mo, sumuko ka na."
Stay updated on the latest happenings in Philippine Showbiz. We'll deliver the news, chismis, updates of the hottest celebrities and stories in tinseltown... DAILY!
Follow @showbizdailyph
Share this article in forums: