The National Bureau of Investigation called for a press conference to present CCTV photos from Forbeswood condo where starlet Deniece Cornejo resides to shed light on issue concerning TV Host Vhong Navarro.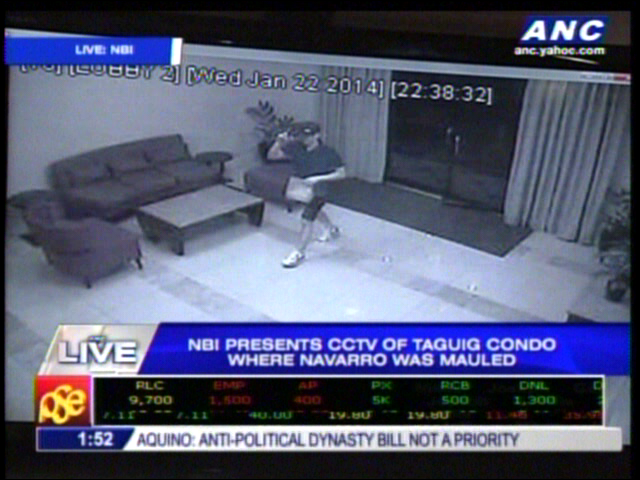 PHOTO: CCTV footage shows Vhong Navarro entering the lobby of D. Cornejo's condo building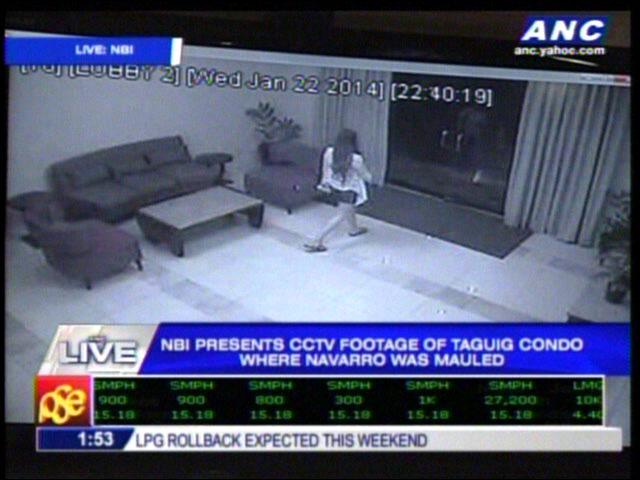 PHOTO: Deniece Cornejo at 22:40, Jan. 22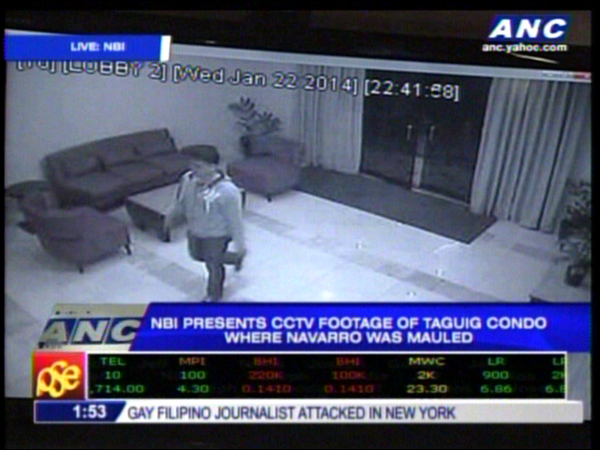 PHOTO: Cedric Lee at 22:41, Jan. 22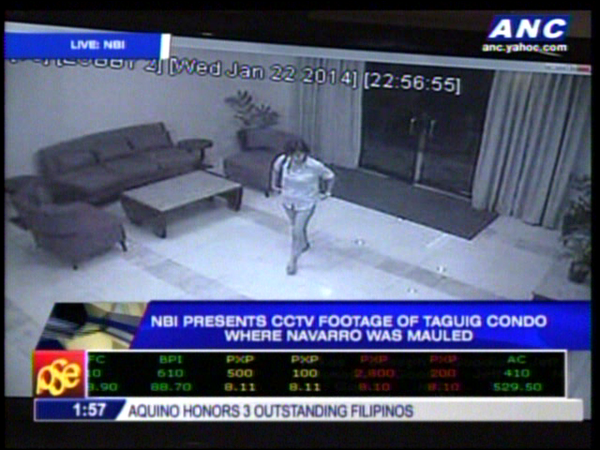 PHOTO: Bernice Lee enters Taguig condo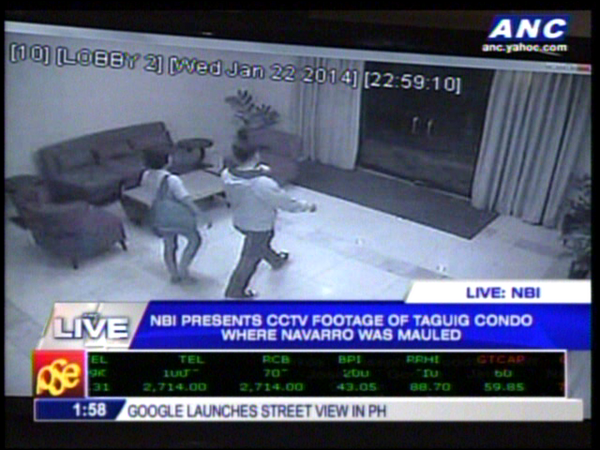 PHOTO: Cedric Lee and sister Bernice leave the condo (22:59)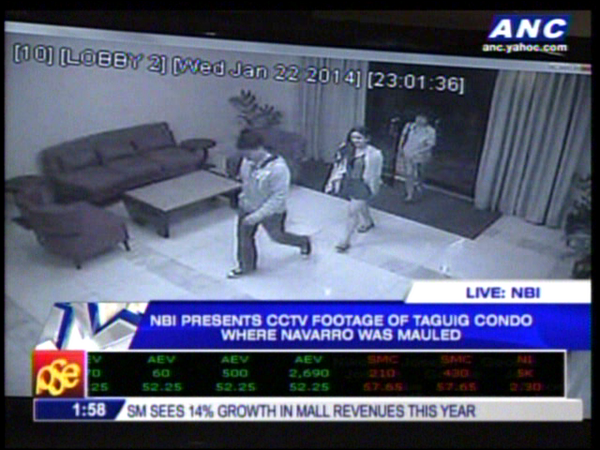 PHOTO: Cedric Lee, Bernice and Deniece Cornejo enter the condo (23:01)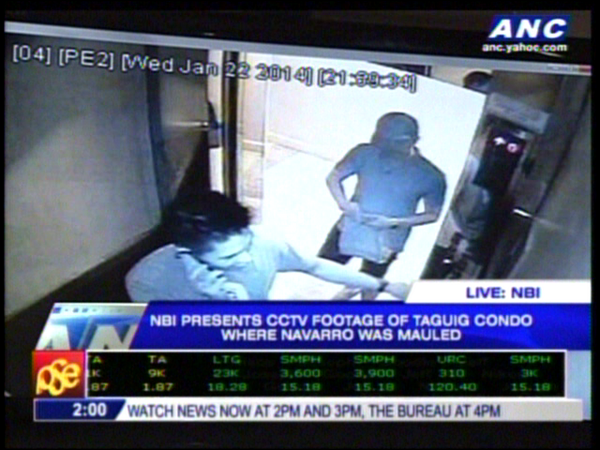 PHOTO: Vhong Navarro enters the elevator going up to the condo unit of Cornejo (21:59-time is not in sync with lobby)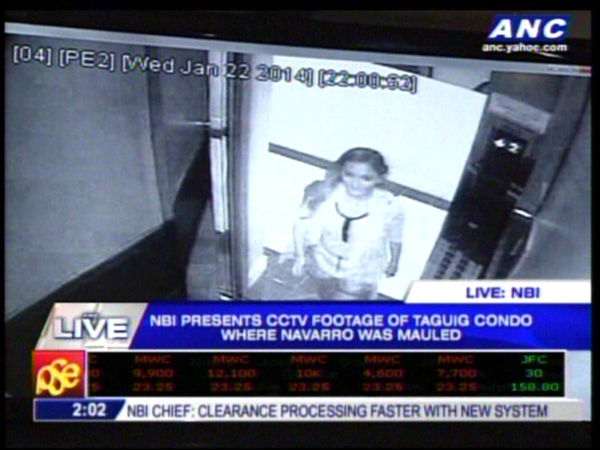 PHOTO: At 22:00, footage shows Cornejo entering elevator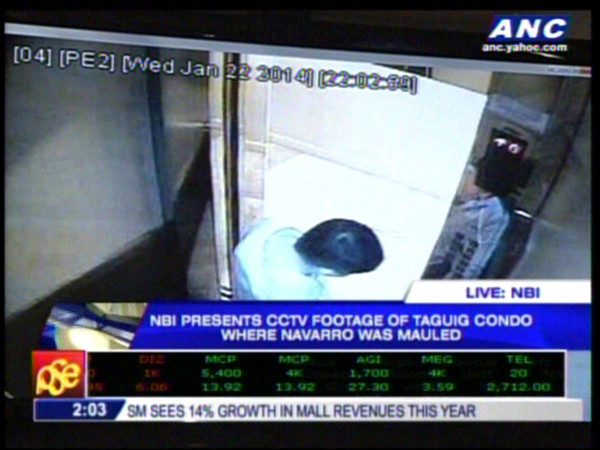 PHOTO: At 22:02, footage shows Cedric Lee entering the elevator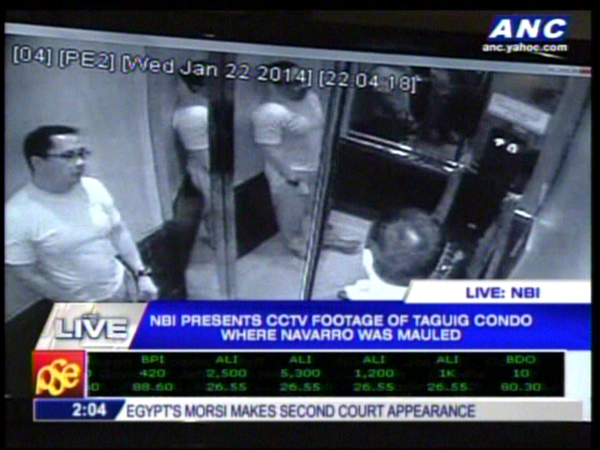 PHOTO: At 22:04, Ferdinand Guerrero and companion enter elevator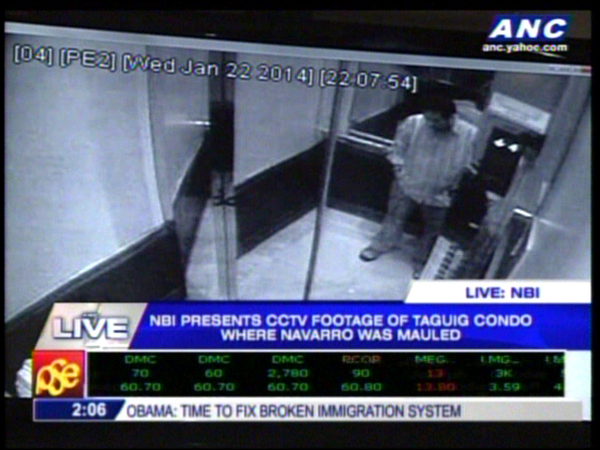 PHOTO: "Mike" enters elevator at 22:07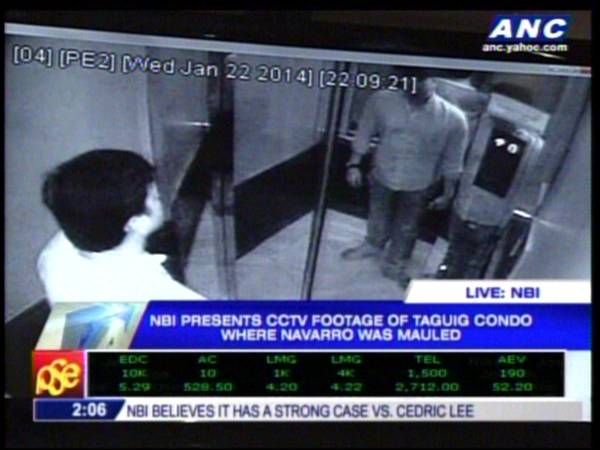 PHOTO: At 22:09, another companion of C. Lee enters the elevator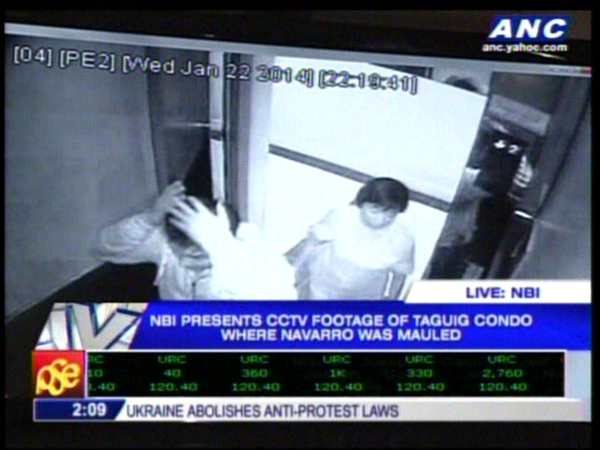 PHOTO: At 22:19, Bernice and Cedric Lee enter the elevator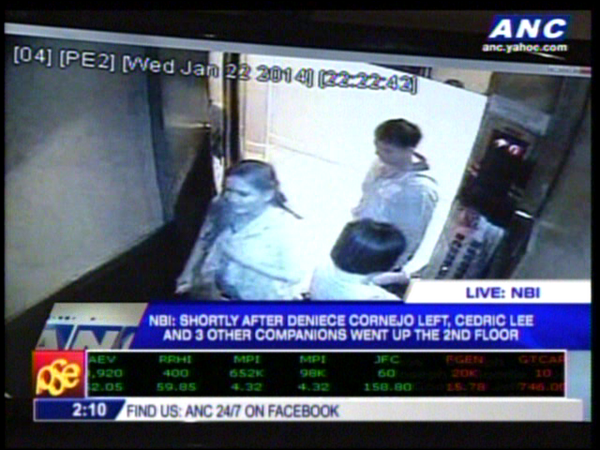 NBI: At 22:22, Deniece Cornejo, Bernice Lee and Cedric Lee enter the elevator, go to 2nd floor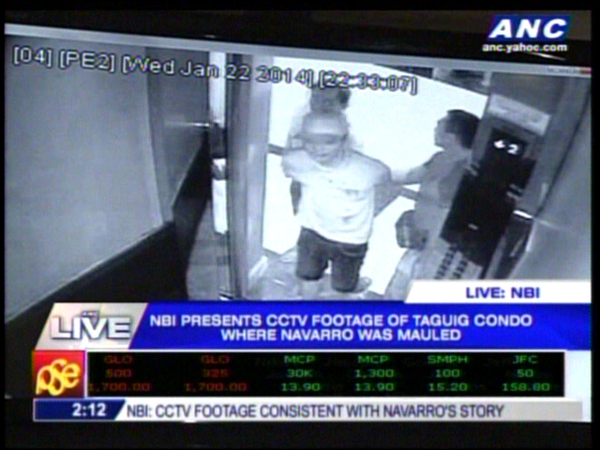 PHOTO: At 22:33, 2 men & Vhong Navarro, whose hands are tied, are seen entering the elevator. One is allegedly Zimmer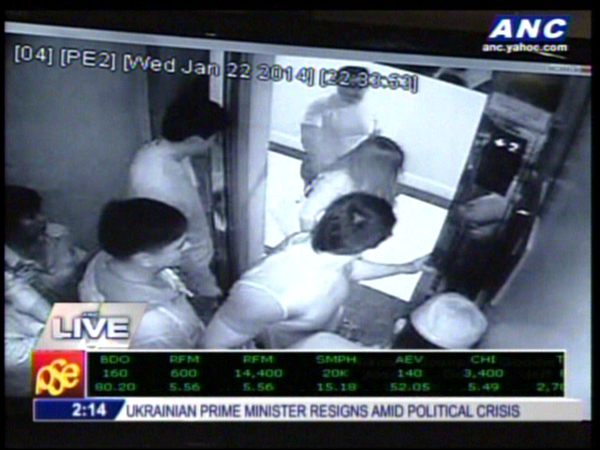 PHOTO: At 22:33, Vhong and 8 others in the condo elevator, including Cedric Lee and Deniece Cornejo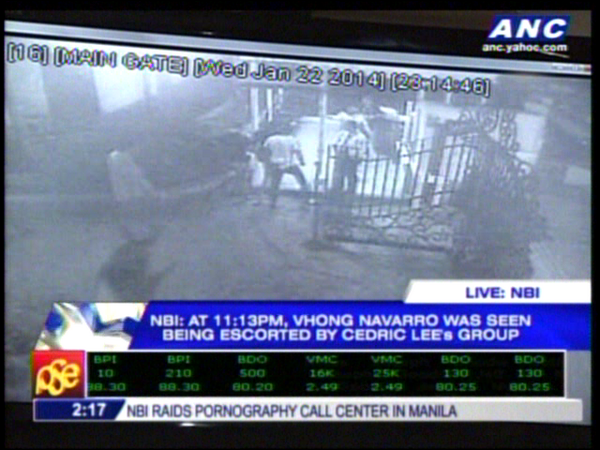 PHOTO: Gate camera footage shows Vhong being led out the main gate. His hands are still tied
NBI: After this, tumuloy na po sila (Vhong Navarro and companions) para magpa-blotter
NBI: The video itself, dito po nagtutugma ang testimony ni Mr. Vhong Navarro with what we saw in the CCTV (footage)
NBI: Viniverify pa namin kung may unit sila na talagang ginamit doon. So far wala pang bumabalik na info mula sa admin (ng condo)
NBI: Noong pumasok si Mr. Vhong Navarro, after a few minutes, we can see in the video na si Ms. Deniece Cornejo, went out.
NBI: After, nung bumalik siya, she was together na with Cedric and Bernice
NBI on findings, if Vhong Navarro was set up: We are leaving it to the judgment of the prosecutors
NBI:We have a subpoena addressed to the guards, and we are waiting for the footage of January 17 (first meeting between Cornejo and Navarro)
NBI: Sa statement ng mga guwardya, nagpasabi si Deniece na may mga bisita sya. Sinabi din nya na paparating si Vhong.
NBI: Sa ineexpect ni Ms. Cornejo, na bibisita sa kanya, si Vhong Navarro. Mayroon pa [raw] siyang relatives na darating.
NBI: Ang CCTV po [sa condo] ay doon lang sa elevator, lobby at gate.
NBI: Ang nirekomenda po namin dito sa charge sheet sa DOJ, 6 cases
NBI: Serious illegal detention, serious physical injuries, grave threats, grave coercion, unlawful arrest, and blackmail
NBI on Lee & Cornejo's companions: Inaalam namin ang kanilang mga addresses so we can summon them and hear their side of the story
NBI: Wala kaming info kung lalabas ng bansa si Cedric Lee, nakatutok kami sa natitirang parts ng investigation. Ibang ahensya nakatoka dyan.
NBI: We are still in the process of working on that: who the real "Mike" is
NBI: Puro upper part of the body pa lang ang nasa medico legal ni Vhong ngayon. Tungkol sa lower body ni Vhong, wala pa kaming info.


Stay updated on the latest happenings in Philippine Showbiz. We'll deliver the news, chismis, updates of the hottest celebrities and stories in tinseltown... DAILY!


Share this article in forums: