When biological mother of Aia delas Alas passed away this week several showbiz friends and celebrities expressed their condolences to the comedy queen. But Kris Aquino, whom Delas Alas treats as "bespren", wasn't there. Kris is still in a holiday trip abroad with her two sons. Instead, a boquet of flowers was sent and a text message from Kris which Aiai ignored.
""Hindi naman galing sa kanya 'yon! Nag-text naman siya sa akin. Hindi ko na lang sinagot," said Aiai which leaves us wondering 'why'.
Could it be the reason why she's endorsing current Vice President Jojo Binay's bid for 2016 Presidential elections? VP Binay and Kris Aquino's older brother President Noynoy Aquino are in two separate political parties which the latter is pushing for Mar Roxas in the next election.
Delas Alas endorsed Pnoy during 2010 elections. Unlike Binay who paid a visit at the wake of Aiai's mother, the President's presence wasn't felt and not even bouquet of flowers from his staff was sent.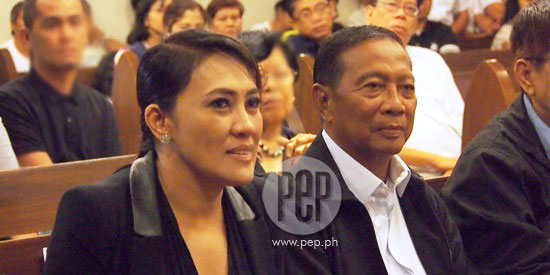 Aiai Delas Alas and Vice President Jojo Binay during the wake of
the latter's biological mother
But why is she endorsing Binay?
"Ka-birthday ko kasi siya, hahaha! Matagal ko nang kaibigan si VP. Mabait siyang tao at matulungin. Kaya siya ang susuportahan ko sa 2016,"
Stay updated on the latest happenings in Philippine Showbiz. We'll deliver the news, chismis, updates of the hottest celebrities and stories in tinseltown... DAILY!
Follow @showbizdailyph
Share this article in forums: